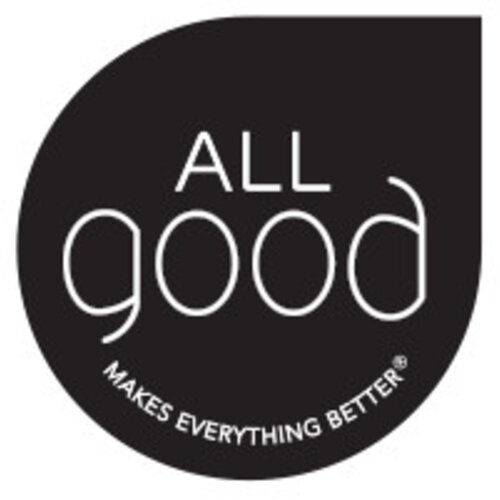 All Good
As a nature-based healing company, All Good are forever grateful for the earth's abundant resources. They see it as our duty to care for them in the same way we care for our own bodies. That's why All Good are dedicated to using restorative and responsible business practices.
Our production facility runs on solar power.
That's right – we make All Good Goop in the Morro Bay Community Center's kitchen, which gets its electricity from photovoltaic panels on the building's rooftop.
We are strong advocates for Reef Friendly products and initiatives.
While there are a number of sunscreens on the market that claim to be 'natural' or 'safe' for coastal ecosystems, most fail to live up to their promises. In particular, coral reefs around the globe are under incredible stress due to climate change and pollution such as the common chemicals found in most sunscreens. But fear not! All Good sun care products are 100% Reef Friendly, and we've outlined criteria so you can make the best choice for the health of our oceans, health of coral reefs and the health of your skin. Join our campaign to promote Reef Friendly skincare products!
We use certified organic ingredients in our products and seek the highest possible medicinal quality in all of our herbs.
By purchasing organically grown herbs, oils and raw materials, we are ensured that our ingredients were not poisoned with harmful pesticides, herbicides or chemical fertilizers. All ingredients are sourced for their quality and sustainability and are always organic when available. Going a step beyond organic on our own farm and "herbal test garden," we are committed to wild land farming that protects wildlife habitat, conserves water, attracts beneficial insects and birds, and builds healthy soil for the future.
Our products are cruelty-free, tested on consenting humans only.
Millions of animals, including birds, dogs, fish, guinea pigs, mice, rabbits, rats, and even monkeys, are tortured and killed for the (often inconclusive) testing of consumer products. We've signed the campaign for cruelty free cosmetics and partner with membership affiliates to spread the word: PETA
and Coalition for Consumer Information on Cosmetics (Leaping Bunny). Please support companies who don't test on animals.
We give one percent of all sales, before any expenses to important global causes through 1% for the Planet.
Our current partners receiving All Good's revenue donations are Save Our Snow and United Plant Savers.
Our team is our family.
We are a small company, and as we grow, we want our team to grow with us. We create a fun and healthy environment for employees, and we encourage them to care for themselves and their families first. We support them in their own nourishing pursuits.
We actively oppose the use of Genetically Modified Organisms (GMOs) and find suppliers who are in compliance with this.
GMOs wreak havoc on our agricultural and natural systems. By introducing genetically modified organisms into the environment, corporate seed producers have unleashed a self-replicating monster that cannot be recalled. We will always find sources of raw materials that do not contain GMOs.
We use recycled and recyclable packaging, shipping and printed materials.
Yeah! We are excited for more companies to jump on this wagon because one day, it will be less expensive to purchase paper that does not destroy virgin forests, pollute rivers with chlorine, and end up in a landfill. In the meantime, we are committed to finding new materials all the time that actually have a positive impact on the earth throughout their lifecycle. We recognize that we have a long way to go here, and we will not ever stop looking for better packaging solutions.
We maintain relationships with suppliers and manufacturers who have high environmental standards and take care of their employees.
The impact we have goes all the way down the line; from production to end use. The companies we work with are allies in producing eco-friendly, organic and fairly traded goods.
As a triple bottom line business, our commitment to social and environmental responsibility is audited through our partnership with B Corporation.
We are also members of the sustainable business network, Green America.
We sponsor Activist Athletes.
Learn more about our human-powered sponsorship program.
We laugh a lot!
We recognize the need for lighthearted humor in the midst of it all and we cherish absurdity in daily life. Sharing smiles and laughter is a great way to positively impact our environment and our health. It's easy.